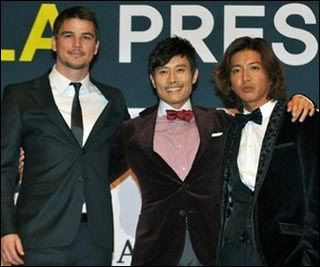 BUSAN, South Korea : Josh Hartnett isn't having things all his own way at Asia's largest film festival. Every time the Hollywood star appears in public, the loudest screams are being directed at his co-star.
Hartnett is here at the 14th Pusan International Film Festival to promote his latest film, the thriller "I Come with the Rain", alongside fellow cast members Lee Byung-hun, of South Korea, and Japan's Takuya Kimura.
And Saturday during an appearance before 5,000 fans who had camped out all day at the city's famous Haeundae beach the fans cheered when Hartnett appeared. But they went ballistic as soon as they saw Kimura.


It was the same at a press conference for the film Friday and on the red carpet during Thursday night's opening ceremony.

"It's okay," said Hartnett. "He's a good-looking guy. And I know the ladies love him."

Kimura, a member of boyband SMAP, has become an idol throughout Asia thanks to his roles in Japanese television series including the wildly successful "Hero" where he played a cop who bends the rules.

In recent years he has worked alongside art-house movie directors Wong Kar-wai, for "2046", and Yoji Yamada on "Love and Honor".

For his part, Kimura said acting alongside Hartnett had been an "honour" and that he had been surprised to find the American just a "very good guy."

Haeundae is often described as the world's most crowded beach during the summer months, when it attracts up to 100,000 people along its narrow 1.5 kilometre (one mile) stretch.

And it looked a little like that Saturday, with thousands crowding the sand and sitting in the autumn sunshine waiting for a chance to see the stars -- and even have their questions answered during an "open talk" session.

Hartnett was again gracious when his first questioner ask how he rated local actors compared to those he worked with in Hollywood.

"It's always a pleasure to work with great actors and it is very difficult to compare Hollywood actors with Asian actors," he said.

"All I can say is that they are extremely dedicated to their craft."

"I Come with the Rain" is an atmospheric thriller from the celebrated Paris-raised Vietnamese director Tran Anh Hung, who won the Camera d'Or at the 1993 Cannes festival for "The Scent of Green Papaya" and the Golden Lion in Venice for "Cyclo" in 1995.

Hartnett said shooting the film had been a unique experience as it had taken him to the Philippines and Hong Kong, and had mixed the styles of all the international filmmakers involved.

"The reception from the fans has been great and it is nice to see so many people support a poetic film like this," he said. "These types of films don't get released in Hollywood too often these days and that's a shame."

For his part, director Tran had earlier said shooting the film was a "nightmare" due to the locations he had chosen but he was proud of the end product and in particular of his three leading men.

"When I am casting a role the most important thing is the humanity that comes with the actor and I think you can see that with these three guys," he said.

Source : Channel News Asia